AssalamWalekum my dear brother and sisters, Surah Al-Mutaffifin holds n important place, Here you can Surah Mutaffifin PDF Download and Mp3.
its teaching and profound insights guide the Muslims in their spiritual journey. In this article, we will Insha Allah provide a comprehensive guide and deeper understanding of the teachings and their relevance to contemporary times.
Surah Mutaffifin
Surah Mutaffifin is also known as "The Defrauding" or "Those Who Give Less," Surah Mutaffifin is the 83rd chapter of the Quran Majid. It was revealed in Makkah during the early years of Prophet Muhammad's (peace be upon him) prophethood, at that time the Muslim community faced persecution and opposition from the Quraysh tribe. This surah addresses the prevalent issue of dishonesty, greed, and unfair business practices within the society at that time.
Surah Mutaffifin In Arabic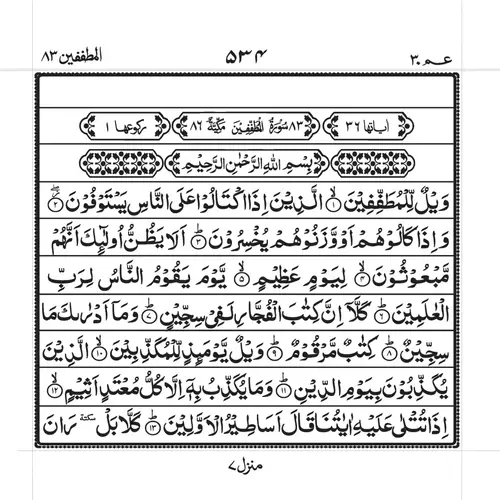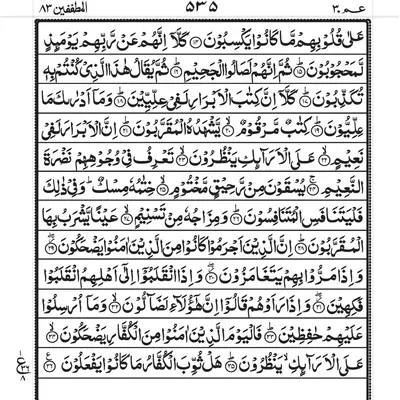 Surah Mutaffifin In English
Bismillaahir Rahmaanir Raheem
Wailul lil mutaffifeen
Allazeena izak taaloo 'alan naasi yastawfoon
Wa izaa kaaloohum aw wazanoohum yukhsiroon
Alaa yazunnu ulaaa'ika annahum mab'oosoon
Li Yawmin 'Azeem
Yawma yaqoomun naasu li Rabbil 'aalameen
Kallaaa inna kitaabal fujjaari lafee Sijjeen
Wa maa adraaka maa Sijjeen
Kitaabum marqoom
Wailuny yawma'izil lil mukazzibeen
Allazeena yukazziboona bi yawmid deen
Wa maa yukazzibu biheee illaa kullu mu'tadin aseem
Izaa tutlaa'alaihi aayaatunaa qaala asaateerul awwaleen
Kallaa bal raana 'alaa quloobihim maa kaanoo yaksiboon
Kallaaa innahum 'ar Rabbihim yawma'izil lamah jooboon
Summa innahum lasaa lul jaheem
Summa yuqaalu haazal lazee kuntum bihee tukazziboon
Kallaaa inna kitaabal abraari lafee'Illiyyeen
Wa maaa adraaka maa 'Illiyyoon
Kitaabum marqoom
Yashhadu hul muqarra boon
Innal abraara lafee Na'eem
'Alal araaa'iki yanzuroon
Ta'rifu fee wujoohihim nadratan na'eem
Yusqawna mir raheeqim makhtoom
Khitaamuhoo misk; wa fee zaalika falyatanaafasil Mutanaafisoon
Wa mizaajuhoo min Tasneem
'Ainaiy yashrabu bihal muqarraboon
Innal lazeena ajramoo kaanoo minal lazeena aamanoo yadhakoon
Wa izaa marroo bihim yataghaamazoon
Wa izan qalabooo ilaaa ahlihimun qalaboo fakiheen
Wa izaa ra awhum qaalooo inna haaa'ulaaa'i ladaaal loon
Wa maaa ursiloo 'alaihim haafizeen
Fal yawmal lazeena aamanoo minal kuffaari yadhakoon
'Alal araaa'iki yanzuroon
Hal suwwibal kuffaaru maa kaanoo yaf'aloon
बिस्मिल्ला-हिर्रहमा-निर्रहीम
वैलुल् – लिल् – मुतफ़्फ़िफीन
अल्लज़ी – न इज़क्तालू अलन्नासि यस्तौफून
व इज़ा कालूहुम् अव्व – ज़नूहुम् युख़्सिरून
अला यजुन्नु उलाइ – क अन्नहुम् मब्अूसून
लियौमिन अ़ज़ीम
यौ – म यकूमुन्नासु लिरब्बिल् – आ़लमीन
कल्ला इन् – न किताबल् – फुज्जारि लफ़ी सिज्जीन
व मा अद्रा – क मा सिज्जीन9. किताबुम् – मकूम
वैलुंय्यौमइज़िल् – लिल् मुकज़्ज़िबीन
अल्लज़ी – न युकज़्ज़िबू – न बियौमिद्दीन
व मा युकज़्ज़िबु बिही इल्ला कुल्लु मुअ् – तदिन् असीम
इज़ा तुत्ला अ़लैहि आयातुना का़ – ल असातीरुल – अव्वलीन
कल्ला बल् – रा – न अ़ला कुलूबिहिम् – मा कानू यक्सिबून
कल्ला इन्नहुम् अर्रब्बिहिम् यौमइज़िल – लमह्जूबून
सुम् – म इन्नहुम् लसालुल – जहीम
सुम्म युका़लु हाज़ल्लज़ी कुन्तुम् बिही तुकज़्ज़िबून
कल्ला इन् – न किताबल् – अबरारि लफ़ी अिल्लिय्यीन
व मा अद्रा – क मा अ़िल्लिय्यून
किताबुम् -मरकूम
यश् – हदुहुल् – मुक़र्रबून
इन्नल् – अब्रा – र लफ़ी नअ़ीम
अ़लल् अरा – इकि यन्जुरून
तअ्रिफु फ़ी वुजूहिहिम् नज् – रतन् – नअ़ीम
युस्कौ – न मिर्रहीकिम् – मख़्तूम
खितामुहू मिस्क, व फ़ी ज़ालि – क फ़ल्य – तनाफ़सिल – मु – तनाफ़िसून
व मिज़ाजुहू मिन् तस्नीम
अनंय् – यश्रबु बिहल – मुकर्रबून
इन्नल्लज़ी – न अज्रमू कानू मिनल्लज़ी – न आमनू यज् – हकून
व इज़ा मररू बिहिम् य – तगा़ – मजून
व इज़न् – क़ – लबू इला अह़्लिहिमुन्क – लबू फ़किहीन
व इज़ा रऔहुम् का़लू इन् – न हा – उला – इ लज़ाल्लून
व मा उर्सिलू अ़लैहिम् हाफ़िज़ीन
फल्यौ मल्लज़ी – न आमनू मिनल् – कुफ़्फारि यज़्हकून
अ़लल् – अरा – इकि यन्जुरून
हल् सुव्विबल – कुफ़्फारु मा कानू यफ़अलून
Themes And Structure
Surah Al-Mutaffifin is the 83rd Surah of the Quran Majid and it comprises 36 verses, it revolves around the theme of Justice, accountability, and the consequences of one's action. Those who cheat and manipulate measures and deny the rights of others will be held accountable for what they did.
One of the most important teachings of the Surah is that Allah is aware of every human activity and action, both apparent and hidden. It underscores the importance of integrity and honesty in all aspects of life and urges believers to uphold fairness and transparency in their dealings and deeds. The surah's structure like its revolves around describing the attributes and rewards of the righteous and the fate of those who engage in fraudulent activity.
Lessons And Guidance
Surah Al-Mutaffifin emphasizes the importance of honesty and integrity in personal as well as business dealings. Muslims are reminded to be honest in everything they give in business full measure and weight and to avoid any illegal and deceptive practices that harm others.
Accountability And Justice
The surah is based on the concept of accountability in the Hereafter. It serves as a reminder that every individual's actions, no matter how small, will be taken into account on the Day of Judgment, and justice will prevail.
It highlights the consequences of exploitative behavior, the surah encourages believers to develop empathy and compassion for others. It promotes a sense of responsibility towards society's marginalized and vulnerable members.
Surah Al-Mutaffifin reminds us that faith is unseen. it includes the reality of the Hereafter. It strengthens the faith of believers and encourages them to prioritize their eternal life over temporary gains.
Balancing Material And Spiritual Pursuits
This surah serves as a guide for Muslims in balancing their material pursuits with their spiritual growth. It warns against being overly attached to worldly possessions and stresses the importance of maintaining a strong connection with Allah.
Relevance In Contemporary Times
The teachings of Surah Al-Mutaffifin continue to hold immense relevance in today's world, where ethical misconduct, dishonesty, and exploitation remain prevalent. The surah calls for ethical business practices, transparency, and fairness, which are essential in building just and harmonious societies. It also reminds individuals of the consequences of their actions, both in this world and the Hereafter, encouraging them to lead true and Just lives.
Conclusion
Surah Al-Mutaffifin stands as a timeless guide from the Quran's enduring wisdom and guidance. Its lessons on honesty, accountability, and empathy provide a roadmap for believers to navigate the complexities of modern life while upholding their faith and values. By internalizing the teachings of this surah, Muslims can strive for a more just and compassionate society, embodying the core principles of Islam in their interactions and endeavors.