AssalamWalekum my dear sisters and brothers, here in this article, you will get the Ayatul Kursi PDF download. This Ayatul Kursi is also known as the Throne verse. It is said that Ayatul Kursi is the most powerful verse in the Quran Majeed.
Ayatul Kursi is found in the surah Al-Baqarah, which is chapter 2 and Ayat 255. It is the most powerful and holds immense significance in the life of Muslims. Here we will explore the blessings and benefits of reciting Ayatul Kursi. We will provide the Ayatul Kursi PDF download and mp3 for easy reference and recitation.
Ayatul Kursi In Arabic With Urdu Translation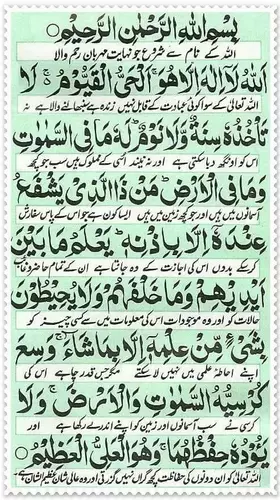 Ayatul Kursi is the throne verse this verse is a profound and divine attribute of Allah Subhan Wa Taa'La. The ayat is full of sovereignty and power. It focuses on the oneness of Allah and His control over the earth and heavens. Regularly reciting Ayatul Kursi make a deep connection with the creator Allah Subhan Wa Taa'La and with this verse Muslims find peace.
Ayatul Kursi In English
BISM IL-LAAHIR-RAH'MAN IR-RAH'EEM
ALLAAHO LAA ELAAHA ILLAA HOWA, AL-HAYYUL QAYYOOMO, LAA TAAKHOZOHU SENATUWN WALAA NAWMUN, LAHU MAA FIS SAMAAWAATE WA MAA FIL ARZE, MAN DAL LAZE YASH-FA-O' I'NDAHU ILLAA BE-IZNEHI, YA'LAMO MAA BAYNA AYDEEHIM WA MAA KHALFAHUM, WA LAA YOHEETOONA BE SHAYIM MIN I'LMEHI ILLAA BEMAA SHAAA-A, WASE-A' KURSIYYOHUS SAMAAWAATE WAL ARZA, WA LAA YA-OODOHU HIFZOHOMAA, WA HOWAL A'LIYYUL A'ZEEMO.
Ayatul Kursi In Hindi
बिस्मिल्लाह-हिर्रहमान-निर्रहीम
अल्लाहु ला इलाहा इल्ला हुवल हय्युल क़य्युऊम। ला ताखुजुहु सिनतुन वला नौम. लहू मा फिस्समावाती वमा फिल अरज़ि मन ज़ल लज़ी यशफउ इन्दहु इल्ला बिइज़्निही यालमु मा बैना ऐदीहिम् वमा खलफहुम वला युहीतूना बिशैयिम मिन इल्मिही इल्ला बिमा शाआ वसिआ कुरसिययुहुस समावाती वल अर्ज़ा वला ययुदुहु हिफ्जुहुमा वहुवल अलिय्युल अज़ीम।
Benefits Of Reciting Ayatul Kursi
a) Ayatul Kursi Provides protection from evil and bad harm. It acts as a shield and covers any negative energy and any kind of spiritual disturbance. It is said to recite Ayatul Kursi every night before going to sleep.
b) This powerful verse provides protection from evil and any harm, this verse has the ability to strengthen Muslims' faith and their spirituality. It reminds us about Allah's Wisdom and mercy. Regular recitation of Ayatul Kursi deepens the connection with the Creator.
c) It is said that recite Ayatul Kursi and seek blessings from Allah Subhan Wa Taa'La There are many Muslims who recite it when in distress or in any kind of problem, and recite Ayatul Kursi when seeking guidance from Allah Almighty.
d) If you have the Ayatul Kursi PDF version, it will be easy for you to recite Ayatul Kursi anywhere. For easy accessibility and reference, the Ayatul Kursi PDF download is important. PDF downloads can be stored in any device be it your Mobile device or laptop.
e) If you want to download the Ayatul Kursi PDF make sure you will download it from reliable and authentic websites. Online Quran platforms or any trusted Islamic websites. onlyislamway.com is the best provider of Ayatul Kursi PDF downloads.
f) There are many Quranic applications available in the play store for downloads on smartphones. You can also download the entire Quran Majeed in PDF format. These apps are best and include options like translation, transliteration, and also recitation.
Guidelines For Reciting Ayatul Kursi
While reciting verses from the Quran Majeed should read the correct pronunciation. Whereas Reciting Ayatul Kursi correctly and accurately is very important otherwise meaning of the verse change. It is better to seek help from a knowledgeable person or alim. Or you can also take the help of the audio library available online.
Understanding the meaning of the verse which you recite, is always beneficial to understand the meaning and translate, and also if you know the meaning try to teach others also about its benefits and its meaning.
Translation of the Ayatul Kursi is available widely online in Arabic text as well as in different languages from around the world. Understand the message that the verse carries.
To get full benefits of the Ayatul Kursi always keep on reciting the verse and try to learn it by heart with the help of Ayatul Kursi PDF download. Devote a specific time each day to recite this powerful verse, whether individually or as part of your daily prayers. Regular recitation will enhance its impact on your spiritual well-being. It is better to recite the verse at night before going to sleep.
Conclusion
In the last we conclude that it is the most powerful verse in the hands of Muslims recite this verse whenever you seek guidance from Allah Subhan Wa TaaLa. By understanding the meaning of the verse and reciting it with sincerity and devotion can seek protection and blessings from Allah Subhan Wa Taa'La. Accessing the PDF version of the Ayatul Kursi ensures its availability at all times.