Assalamwaekum my dear brothers and sisters, here you will get the PDF and Mp3 download of Surah Tahrim. As we all know surah Tahrim is the profound surah from the Quran Majid and it carries invaluable lessons and guidance for Muslims.
In this article, we will explore the understanding of the surah and its significance and you will get the download PDF version of the surah Tahrim for your convenience
Surah Tahrim
Surah Tahrim is the profound surah of the Quran Majid. It is the 66th surah and it is the Meccan surah, it was revealed during the period of intense testings and trials for the Prophet Muhammad (PBUH) and his family.
The main aim of the surah is to address the issue within the Prophet's household, emphasizing the importance of honesty, accountability, and obedience to Allah SWT's commandments.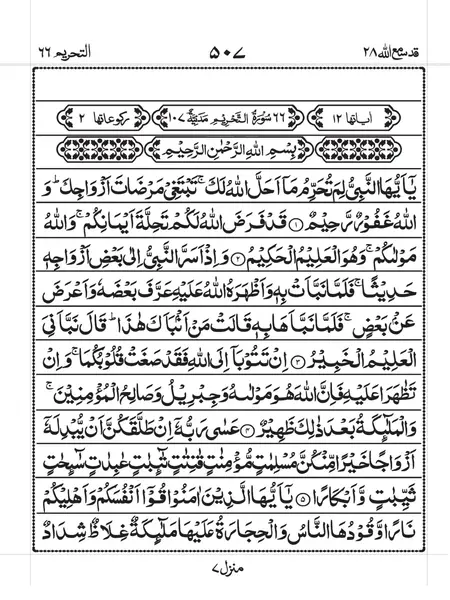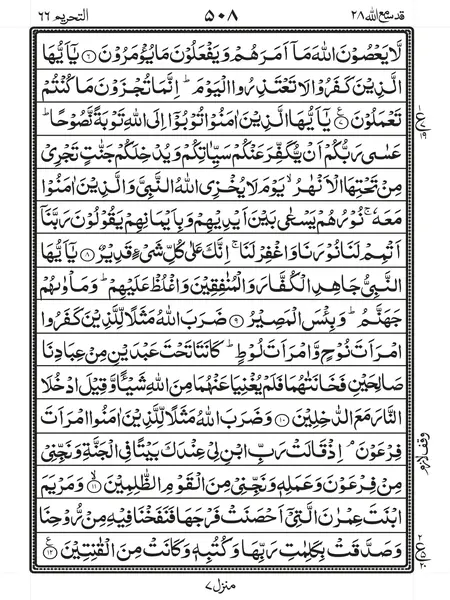 بِسْمِ اللَّهِ الرَّحْمَٰنِ الرَّحِيمِ

1. يَا أَيُّهَا النَّبِيُّ لِمَ تُحَرِّمُ مَا أَحَلَّ اللَّهُ لَكَ ۖ تَبْتَغِي مَرْضَاتَ أَزْوَاجِكَ ۚ وَاللَّهُ غَفُورٌ رَحِيمٌ
2. قَدْ فَرَضَ اللَّهُ لَكُمْ تَحِلَّةَ أَيْمَانِكُمْ ۚ وَاللَّهُ مَوْلَاكُمْ ۖ وَهُوَ الْعَلِيمُ الْحَكِيمُ
3. وَإِذْ أَسَرَّ النَّبِيُّ إِلَىٰ بَعْضِ أَزْوَاجِهِ حَدِيثًا فَلَمَّا نَبَّأَتْ بِهِ وَأَظْهَرَهُ اللَّهُ عَلَيْهِ عَرَّفَ بَعْضَهُ وَأَعْرَضَ عَنْ بَعْضٍ ۖ فَلَمَّا نَبَّأَهَا بِهِ قَالَتْ مَنْ أَنْبَأَكَ هَٰذَا ۖ قَالَ نَبَّأَنِيَ الْعَلِيمُ الْخَبِيرُ
4. إِنْ تَتُوبَا إِلَى اللَّهِ فَقَدْ صَغَتْ قُلُوبُكُمَا ۖ وَإِنْ تَظَاهَرَا عَلَيْهِ فَإِنَّ اللَّهَ هُوَ مَوْلَاهُ وَجِبْرِيلُ وَصَالِحُ الْمُؤْمِنِينَ ۖ وَالْمَلَائِكَةُ بَعْدَ ذَٰلِكَ ظَهِيرٌ
5. عَسَىٰ رَبُّهُ إِنْ طَلَّقَكُنَّ أَنْ يُبْدِلَهُ أَزْوَاجًا خَيْرًا مِنْكُنَّ مُسْلِمَاتٍ مُؤْمِنَاتٍ قَانِتَاتٍ تَائِبَاتٍ عَابِدَاتٍ سَائِحَاتٍ ثَيِّبَاتٍ وَأَبْكَارًا
6. يَا أَيُّهَا الَّذِينَ آمَنُوا قُوا أَنْفُسَكُمْ وَأَهْلِيكُمْ نَارًا وَقُودُهَا النَّاسُ وَالْحِجَارَةُ عَلَيْهَا مَلَائِكَةٌ غِلَاظٌ شِدَادٌ لَا يَعْصُونَ اللَّهَ مَا أَمَرَهُمْ وَيَفْعَلُونَ مَا يُؤْمَرُونَ
7. يَا أَيُّهَا الَّذِينَ كَفَرُوا لَا تَعْتَذِرُوا الْيَوْمَ ۖ إِنَّمَا تُجْزَوْنَ مَا كُنْتُمْ تَعْمَلُونَ
8. يَا أَيُّهَا الَّذِينَ آمَنُوا تُوبُوا إِلَى اللَّهِ تَوْبَةً نَصُوحًا عَسَىٰ رَبُّكُمْ أَنْ يُكَفِّرَ عَنْكُمْ سَيِّئَاتِكُمْ وَيُدْخِلَكُمْ جَنَّاتٍ تَجْرِي مِنْ تَحْتِهَا الْأَنْهَارُ يَوْمَ لَا يُخْزِي اللَّهُ النَّبِيَّ وَالَّذِينَ آمَنُوا مَعَهُ ۖ نُورُهُمْ يَسْعَىٰ بَيْنَ أَيْدِيهِمْ وَبِأَيْمَانِهِمْ يَقُولُونَ رَبَّنَا أَتْمِمْ لَنَا نُورَنَا وَاغْفِرْ لَنَا ۖ إِنَّكَ عَلَىٰ كُلِّ شَيْءٍ قَدِيرٌ
9. يَا أَيُّهَا النَّبِيُّ جَاهِدِ الْكُفَّارَ وَالْمُنَافِقِينَ وَاغْلُظْ عَلَيْهِمْ ۚ وَمَأْوَاهُمْ جَهَنَّمُ ۖ وَبِئْسَ الْمَصِيرُ
10. ضَرَبَ اللَّهُ مَثَلًا لِلَّذِينَ كَفَرُوا امْرَأَتَ نُوحٍ وَامْرَأَتَ لُوطٍ ۖ كَانَتَا تَحْتَ عَبْدَيْنِ مِنْ عِبَادِنَا صَالِحَيْنِ فَخَانَتَاهُمَا فَلَمْ يُغْنِيَا عَنْهُمَا مِنَ اللَّهِ شَيْئًا وَقِيلَ ادْخُلَا النَّارَ مَعَ الدَّاخِلِينَ
11. وَضَرَبَ اللَّهُ مَثَلًا لِلَّذِينَ آمَنُوا امْرَأَتَ فِرْعَوْنَ إِذْ قَالَتْ رَبِّ ابْنِ لِي عِنْدَكَ بَيْتًا فِي الْجَنَّةِ وَنَجِّنِي مِنْ فِرْعَوْنَ وَعَمَلِهِ وَنَجِّنِي مِنَ الْقَوْمِ الظَّالِمِينَ
12. وَمَرْيَمَ ابْنَتَ عِمْرَانَ الَّتِي أَحْصَنَتْ فَرْجَهَا فَنَفَخْنَا فِيهِ مِنْ رُوحِنَا وَصَدَّقَتْ بِكَلِمَاتِ رَبِّهَا وَكُتُبِهِ وَكَانَتْ مِنَ الْقَانِتِينَ
Bismillaahir Rahmaanir Raheem
Yaaa ayyuhan nabiyyu lima tuharrimu maaa ahallal laahu laka tabtaghee mardaata azwaajik; wallaahu ghafoorur raheem
Qad faradal laahu lakum tahillata aymaanikum; wallaahu mawlaakum wa huwal 'aleemul hakeem
Wa iz asarran nabiyyu ilaa ba'di azwaajihee hadeesan falammaa nabba at bihee wa azharahul laahu 'alaihi 'arrafa ba'dahoo wa a'rada 'am ba'din falammaa nabba ahaa bihee qaalat man amba aka haaza qaala nabba aniyal 'aleemul khabeer
In tatoobaaa ilal laahi faqad saghat quloobukumaa wa in tazaaharaa 'alaihi fa innal laaha huwa mawlaahu wa jibreelu wa saalihul mu'mineen; wal malaaa'ikatu ba'da zaalika zaheer
'Asaa rabbuhooo in tallaqakunna anyyubdilahooo azwaajan khairam minkunna muslimaatim mu'minaatin qaanitaatin taaa'ibaatin 'aabidaatin saaa'ihaatin saiyibaatinw wa abkaaraa
Yaaa ayyuhal lazeena aamanoo qooo anfusakum wa ahleekum naaranw waqoodu han naasu wal hijaaratu 'alaihaa malaaa'ikatun ghilaazun shidaadul laa ya'soonal laaha maa amarahum wa yaf'aloona maa yu'maroon
Yaaa ayyuhal lazeena kafaroo la ta'tazirul yawma innamaa tujzawna maa kuntum ta'maloon
Yaaa ayyuhal lazeena aamanoo toobooo ilal laahi tawbatan nasoohan 'asaa rabbukum any-yukaffira 'ankum sayyi aatikum wa yudkhilakum jannaatin tajree min tahtihal anhaaru yawma laa yukhzil laahun nabiyya wallazeena aamanoo ma'ahoo nooruhum yas'aa baina aydeehim wa bi aymaanihim yaqooloona rabbanaaa atmim lanaa nooranaa waghfir lana innaka 'alaa kulli shai'in qadeer
Yaaa ayyuhan nabiyyu jaahidil kuffaara walmunaa-fiqeena waghluz 'alaihim; wa ma'waahum jahannamu wa bi'sal maseer
Darabal laahu masalal lillazeena kafarum ra ata Noohinw wamra ata Loot, kaanataa tahta 'abdaini min 'ibaadinaa saalihaini fakhaanataahumaa falam yughniyaa 'anhumaa minal laahi shai anw-wa qeelad khulan naara ma'ad Daakhileen
Wa darabal laahu masalal lil lezeena aamanumra ata Fir'awn; iz qaalat rab bibni lee 'indaka baitan fil jannati wa najjinee min Fir'awna wa 'amalihee wa najjinee minal qawmiz zaalimeen
Wa Maryamab nata 'Imraanal lateee ahsanat farjahaa fanafakhnaa feehee mir roohinaa wa saddaqat bi kalimaati Rabbihaa wa Kutubihee wakaanat minal qaaniteen
The Power Of Divine Revelation
The revelation of Surah Tahrim serves as proof of the divine nature of the Quran Majid. It showcases how Allah addresses the concerns of His beloved messenger and sets a precedent for resolving domestic disputes through open communication and adherence to divine guidance. This surah reminds us that even the Prophet faced personal challenges, reinforcing the idea that no one in this world is exempt from life's trials.
Themes And Lessons
Surah Tahrim covers various themes, including:
Consequences Of Concealing Truth
The surah Tahrim begins with a powerful example of the consequences of concealing the truth. It recounts the incident when the Prophet's wives tried to hide a trivial matter from him. Allah, in His wisdom, not only revealed the truth to the Prophet Muhammad but also admonished the wives for their actions. This emphasizes the importance of honesty and transparency in personal relationships.
Surah Tahrim states the importance and the necessity of obeying Allah and His messengers. It serves as a reminder that even the closest companions of the Prophet are accountable to divine commands, highlighting the equality of all believers before Allah SWT.
Repentance And Forgiveness
Surah Tahrim emphasizes the importance of seeking forgiveness from Allah. It narrates how the Prophet's wives turned to Allah in repentance, and He, in His infinite mercy, forgave them. Allah loves his followers and He is the one who forgives. This illustrates the concept of divine forgiveness and the boundless compassion of Allah.
It also draws lessons from the stories of prophets who came before and their experiences with their communities. These historical anecdotes provide insights into the patterns of human behavior and the consequences of disobedience to Allah SWT's guidance.
Contemporary Relevance
Surah Tahrim holds profound relevance in contemporary society. It teaches us that lessons on truthfulness, accountability, and seeking forgiveness are timeless. In the world of misfortune and dishonesty, you can seek guidance only by following the path set by the Prophet. The surah serves as a light of guidance. It encourages believers to uphold the highest moral standards and to be transparent in their interactions with others which is more fruitful.
Conclusion
Surah Tahrim is a treasure chest of wisdom and guidance for all Muslim communities. Its historical context, themes, and contemporary relevance make it a surah worth studying and reflecting upon. As we navigate the challenges of this modern world, the lessons from Surah Tahrim continue to inspire us to be truthful, accountable, and obedient to Allah's commands.
Download the PDF version of this article to have a comprehensive guide to Surah Tahrim at your fingertips, It serves as a source of guidance and inspiration for the believers.