Assalamwalekum my dear brothers and sisters, here you will get the Surah Ala PDF and Mp3 download.
Surah Al Ala is the 87th surah in the Quran Majid. it is a short surah comprising only 19 ayats. In this article, we will explore the themes, importance, and teachings as well as the meaning of the surah Al Ala.
Surah Ala
To understand any surah we must know the historical context related to it. Surah Ala was revealed to Prophet Muhammad SAW (PBUH) in Makkah, during his early years. During that time the society of Makkah followed idol worship and ignorance. The message of monotheism and the oneness of Allah SWT was met with fierce resistance from the Quraysh leaders.
بِسْمِ اللّٰهِ الرَّحْمٰنِ الرَّحِیْمِ
سَبِّحِ اسْمَ رَبِّكَ الْاَعْلَىۙ(۱) الَّذِیْ خَلَقَ فَسَوّٰىﭪ(۲) وَ الَّذِیْ قَدَّرَ فَهَدٰىﭪ(۳) وَ الَّذِیْۤ اَخْرَ جَ
الْمَرْعٰىﭪ(۴) فَجَعَلَهٗ غُثَآءً اَحْوٰىؕ(۵) سَنُقْرِئُكَ فَلَا تَنْسٰۤىۙ(۶) اِلَّا مَا شَآءَ اللّٰهُؕ-اِنَّهٗ یَعْلَمُ الْجَهْرَ وَ مَا
یَخْفٰىؕ(۷) وَ نُیَسِّرُكَ لِلْیُسْرٰىۚۖ(۸) فَذَكِّرْ اِنْ نَّفَعَتِ الذِّكْرٰىؕ(۹) سَیَذَّكَّرُ مَنْ یَّخْشٰىۙ(۱۰) وَ
یَتَجَنَّبُهَا الْاَشْقَىۙ(۱۱) الَّذِیْ یَصْلَى النَّارَ الْكُبْرٰىۚ(۱۲) ثُمَّ لَا یَمُوْتُ فِیْهَا وَ لَا یَحْیٰىؕ(۱۳) قَدْ اَفْلَحَ مَنْ
تَزَكّٰىۙ(۱۴) وَ ذَكَرَ اسْمَ رَبِّهٖ فَصَلّٰىؕ(۱۵) بَلْ تُؤْثِرُوْنَ الْحَیٰوةَ الدُّنْیَا٘ۖ(۱۶) وَ الْاٰخِرَةُ خَیْرٌ وَّ اَبْقٰىؕ(۱۷) اِنَّ
هٰذَا لَفِی الصُّحُفِ الْاُوْلٰىۙ(۱۸) صُحُفِ اِبْرٰهِیْمَ وَ مُوْسٰى۠(۱۹)
Surah Ala With Urdu Translation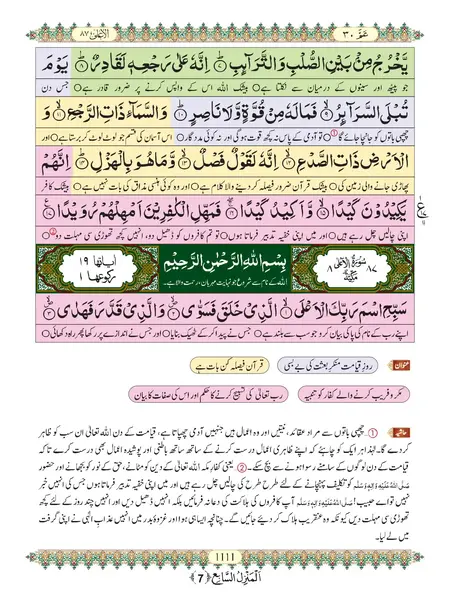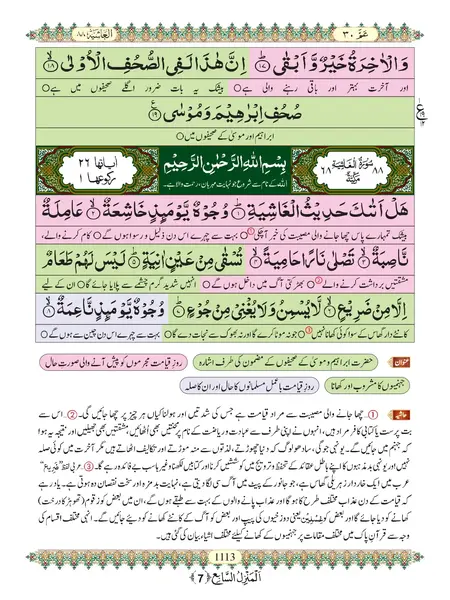 BISMILLAAHIR RAHMAANIR RAHEEM
SABBIHISMA RABBIKAL A'LAA
ALLAZEE KHALAQA FASAWWAA
WALLAZEE QADDARA FAHADAA
WALLAZEEE AKHRAJAL MAR'AA
FAJA'ALAHOO GHUSAAA'AN AHWAA
SANUQRI'UKA FALAA TANSAAA
ILLAA MAA SHAAA'AL LAAH; INNAHOO YA'LAMUL JAHRA WA MAA YAKHFAA
WA NU-YASSIRUKA LILYUSRAA
FAZAKKIR IN NAFA'ATIZZIKRAA
SA YAZZAKKARU MAIYAKHSHAA
WA YATAJANNABUHAL ASHQAA
ALLAZEE YASLAN NAARAL KUBRAA
SUMMA LAA YAMOOTU FEEHAA WA LAA YAHYAA
QAD AFLAHA MAN TAZAKKAA
WA ZAKARAS MA RABBIHEE FASALLAA
BAL TU'SIROONAL HAYAATAD DUNYAA
WAL AAKHIRATU KHAIRUNW WA ABQAA
INNA HAAZAA LAFIS SUHU FIL OOLAA
SUHUFI IBRAAHEEMA WA MOOSAA
बिस्मिल्ला-हिर्रहमा-निर्रहीम
सब्बिहिस् – म रब्बिकल् – अअ्ला
अल्लज़ी ख़ – ल – क़ फ़ – सव्वा
वल्लज़ी कद्द – र फ़ – हदा
वल्लज़ी अख़र – जल् – मरआ
फ़ ज- अ – लहू गुसाअन् अह्ह्वा
सनुक्रिउ – क फ़ला तन्सा
इल्ला मा शा – अल्लाहु , इन्नहू यलमुल् – जह – र व मा यख़फा
व नुयस्सिरु – क लिल्युसरा
फ़ज़क्किर् इन् न – फ़ – अतिज् – ज़िक्रा
स – यज़्ज़क्करु मंय्यख़्शा
व य – तजन्नबुहल – अश्क-
– ल्लज़ी यस्लन् – नारल् – कुब्रा
सुम् – म ला यमूतु फ़ीहा व ला यह्या
क़द् अफ़्ल – ह मन् तज़क्का
व ज़- करस् – म रब्बिही फ़ – सल्ला
बल् तुअ्सिरूनल् – हयातद् – दुन्या
वल – आख़िरतु खैरुंव – व अब्का
इन् – न हाज़ा लफिस् – सुहुफ़िल् – ऊला
सुहुफि इब्राही – म व मूसा
Surah Al Ala Central Message
Surah Al-Ala emphasizes the concept of Tawhid, According to the Surah Ala there is only one God Allah, the oneness of Allah. It stresses that there is no deity worthy of worship except Allah, the Most High. This concept serves as the foundational pillar of the Islamic faith.
The Surah highlights the importance of pure and sincere worship. It condemns the worship of idols and false gods, calling on believers to worship Allah alone.
Surah Ala directs believers to contemplate the creation of the universe. It encourages introspection and recognition of Allah's signs in the natural world as evidence of His existence and power.
Structure And Literary Style
Surah Al-Ala is known for its eloquent and rhythmic style. It employs vivid imagery and powerful rhetoric to convey its message. The repetition of the phrase "فَذُوقُوا" (so taste) in the Surah adds to its literary beauty and serves as a reminder of consequences.
Practical Lessons In Surah Ala
1. Humility and Gratitude
Surah Ala reminds believers of their humble origins, from a drop of semen to a fully-formed human being. It encourages humility and gratitude for Allah's blessings.
2. Abandoning Arrogance
The Surah warns against arrogance and pride, as these behaviors are contrary to the concept of Tawhid. Believers are urged to submit to Allah's will with humility.
3. The Consequences of Actions
Surah Ala highlights the consequences of one's actions. It underscores that those who do good deeds will be rewarded in the Hereafter, while those who do evil will face punishment.
Conclusion
Surah Ala is a concise yet profound surah of the Quran that teaches fundamental principles of the Islamic faith. Its message of monotheism, humility, and reflection on the signs of Allah in the universe is as relevant today as it was during its revelation in Makkah. Believers are encouraged to recite and reflect upon Surah Ala regularly to strengthen their faith and connection with Allah, the Most High.